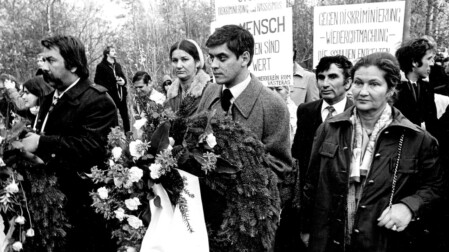 INJUSTICE AND RESISTANCE /
Documentary, HD, 2 x ca 115 min.
Director: Peter Nestler
Coproduction of strandfilm, Frankfurt and Navigator Film, Wien
in cooperation with ZDF-3sat
Broadcasted Juliy 2022
This 2-part film deals with several forms of resistance of German and Austrian Sinti and Roma during the last 80 years. It's about rebellion against injustice and insistence on grace and justice.
It is a story of courage and determination of a minority and their desparate fight between self-assertion and trauma, the story of an outstanding and constant injustice occuring since post war times until now. For Roma and Sinti, who had survived Holocaust, exclusion, poverty and bullying through officials belonged to everyday life.
The Porajmos, the genocide of this minority was officially recognized only in 1982.
Our film tells about the long way out of lawlessness and discrimination into a civil rights movement. Heart and center of this story is Romani Rose, his family and his comrades-in-arms.
Their tireless engagement testifies to civil courage and citizenship, to insistence on peaceful togetherness of cultures and a foreward-looking understanding of democracy.
Is there anything more important in these times of increasing exclusion and racist violence?
Director's Statement
on the films »Injustice and Resistance« and »The Open View«
In the sixties I learned of this constant injustice, was made aware of it, especially by the works of the painter Otto Pankok, whom I met in 1965, and by the social work of Birgitta Wolf, by the writings of Hermann Langbein, who was one of the main witnesses in the Auschwitz trial.
I learned about the uninterrupted discrimination against the minority in Germany and Austria, where everything revolved around reconstruction, about economic advancement.
The war crimes were put to rest, and the many perpetrators, former SS members and criminal police officers, as well as the ›racial hygiene researchers‹, returned to their offices and positions, continued to discriminate and exclude the Sinti and Roma for decades. In 1970 I made the film »Being Gypsy«, which gave people of the minority an opportunity to tell about their experiences.
The new films, »Injustice and Resistance« and »The Open View«, are an extensive inventory from a contemporary perspective with contributions from people of the minority, the descendants of the survivors, the historians who deal with deep-rooted antigypsyism (get involved!), with poets, musicians, photographers and filmmakers, journalists.
What has changed, has improved since the post-war years, and what remains bad? These are parts of the films that we, the team, have put together. That and nothing else.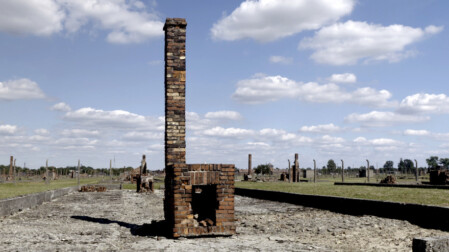 Monday, July 25, 2022, 10.25 pm, on TV
»Injustice and Resistance - Romani Rose and the Civil Rights Movement« Documentary by Peter Nestler, Germany 2021, First broadcast.
For more than eight decades, German Sinti and Roma have experienced injustice. The documentary »Injustice and Resistance - Romani Rose and the Civil Rights Movement« tells the story of Romani Rose's family, their resistance and their insistence on justice. It is the painful story of a minority between trauma and self-assertion, which suffered violence and official harassment throughout the post-war period up to the present day and was only recognized thanks to the civil rights movement.
13 close relatives of the Roses were killed in the Nazi camps. Romani Rose's father Oskar had gone into hiding at the time and was wanted by the Gestapo.
The film reports his courageous actions as well as his futile attempt to ask the Munich Cardinal Michael von Faulhaber for protection for the persecuted in April 1943, as well as the risky liberation of his brother from the Neckarelz concentration camp.
For Roma and Sinti who survived the genocide, exclusion, poverty and official harassment were part of everyday life. The Porajmos, the genocide of the minority, was not officially recognized until 1982.
In his new documentary, Peter Nestler describes the long way out of lawlessness and discrimination into the civil rights movement. Their tireless commitment testifies to civil courage and a sense of citizenship, to their resolute commitment to the coexistence of different cultures and to a forward-looking understanding of democracy.
The film works with archive material and commentaries and is held together by the conversation with Romani Rose about his family history and his experiences as a civil rights activist.
Tuesday, July 26, 2022, 2.35 am, on TV
»Strange Children: Growing Up with Music«
Documentary by Peter Nestler, Germany 2003
The twelve-year-old Roma girl Brigitta and her sister Tünde, who is two years younger, have been playing violin since the age of five - just like their father and grandfather.
This part of the series »Fremde Kinder« was the third film after »Flucht« (2000) and »Die Verwandlung des guten Nachbarn« (2001), which the renowned documentarian Peter Nestler realized for 3sat.
Brigitta and Tünde Máko live with their parents and two older sisters in the VI district of Budapest. The grandfather had discovered the talent of the two girls and initially taught them.
Today, Brigitta and Tünde attend a music school in Budapest, where individual lessons on musical instruments are given in addition to the general subjects.
From Sunday, July 24, 10.25 p.m.,
for 90 days in the 3satMediathek
»Concert of the ROMA AND SINTI PHILHARMONIC«
Event of the Morgenland Festival Osnabrück, November 2021
Roger Moreno-Rathgeb: Gypsy Rhapsody No. 1 Op. 15
Sergei Rachmaninov: Capriccio Bohémien (»on Roma themes«)
George Enescu: Romanian Rhapsody No. 1 in A major for orchestra Lol'i Ruža
Traditional Roma Song (Iva Bittová, Roby Lakatos, Balogh Jozsef, László Rácz, Richard Vasko)
Conductor of the Philharmoniker: Riccardo M Sahiti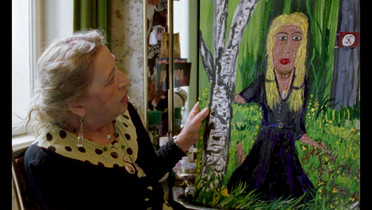 Monday, July 25, 2022, 0.25 am, on TV
»The Open View - Artists of the Sinti and Roma«
Documentary by Peter Nestler, Germany 2021 First broadcast.
»The Open View - Artists of the Sinti and Roma« presents artists of the Sinti and Roma who shape the trauma of persecution and very personal experiences in their works. They use a wide variety of forms of expression and means, but what they all have in common is an open view.
Peter Nestler succeeds in making this tangible by meeting them without cultural fixations and at eye level. Gitta Martl and her daughter Nicole Sevik read short texts. They commemorate the Sinti and Roma in the Austrian »gypsy detention camp« Weyer.
Ceija Stojka (1933-2013) was an Austrian writer, painter, singer, activist and survivor of the Nazi concentration camps Auschwitz, Ravensbrück and Bergen-Belsen.
Her paintings are exhibited in museums and galleries worldwide. Ceija Stojka created her own forms of expression, shaped memory and trauma into a painted oratorio against forgetting.
Filmmaker Karin Berger accompanied Stojka's work as a friend and mentor for two and a half decades, a reminiscense of an extraordinary woman. Writer and Roma activist Samuel Mágó, who deals with identity and prejudice in his texts, says: »For my generation, Ceija Stojka is a really great role model«.
In this context, the film scholar Radmila Mladenova makes an excursion to antiziganist clichés in film history since D. W. Griffith, which are contrasted with photographs characterized by an »egalitarian view« in the depiction of Sinti and Roma.
The artist Lita Cabellut spent her childhood in precarious conditions in Aragon, Spain.
At the age of twelve, she was adopted by a Catalan noble family, moved to the Netherlands in 1980, studied at the Gerrit Rietveld Academy in Amsterdam and has lived in The Hague ever since. As a painter, she uses a modern fresco technique, creates opera sets and costumes. In recent years, a lot has changed for the better for artists. For example, the Kai Dikhas Gallery and Foundation under the direction of Moritz Pankok offers a continuous forum with more than a hundred exhibitions. Parts of the collection can be seen at this year's »documenta fifteen«.
Jovan Nicolic tells poetic short stories about his childhood in a Yugoslav family of musicians.
»The Tear« is a tragicomic miniature about the funeral service for his dead father, who is put the saxophone on his lips one last time. The film is framed by excerpts from a concert of the »Roma and Sinti Philharmonic«.
Under the direction of Riccardo M Sahiti, the orchestra performed with performer Iva Bittová, cymbalist László Rácz and violin virtuoso Roby Lakatos at the »Morgenland Festival Osnabrück« in November 2021.